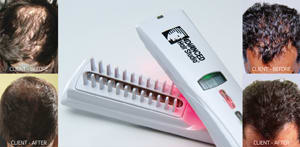 Step 1: Advanced Laser Comb
Over 90% SATISFACTION claimed by manufacturer
FDA Clearance
Clinically proven to promote hair growth
The Advanced Laser Comb has been cleared by the FDA. Using Laser Photo Therapy the Advanced Laser Comb delivers the active AHS-FP ingredients to the source.
Thousand of positive scientific studies of Laser Photo Therapy have been published worldwide and 90% of Laser Comb users see visible results within 12 weeks and are satisfied with the improvements of the appearance of their hair.
---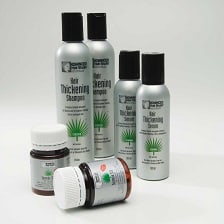 Step 2: AHS Hair Fitness Range
THE PROVEN SUCCESS OF SERENOA-REPENS
Advanced Hair Studios Hair and Scalp Fitness range containing Serenoa Repens is the second step in your hair fitness program. Serenoa has been clinically trialled in self-evaluations based upon double-blind randomized placebo-controlled designs trial. 3 out of 4 men regrew hair within 4 month and 100% of them were happy with their results.
---
Strand-by-Strand hair replacement guarantees a full head of hair, however results will vary from person to person.
Results from testimonials will not apply to every patient.